Ready to take your team to the next level?
Team Building Treasure Hunts
 Research proves that team building is not just a fun event, but a critical investment for the success of your business. Team building, and team development, can positively impact your company's bottom line and performance. 
A Tropical Treasure Hunt gets employees out of their comfort zone and engaged with their coworkers in a meaningful way while having fun and exploring the beauty of St. Pete Beach and the surrounding Pinellas County Beaches. Teams will use critical professional competencies such as communication and collaboration, to solve puzzles and compete for a chance to find buried treasure on one of the area's gorgeous beaches. 
We specialize in strengthening your team's bond with immersive and memorable team building adventures. Our founder is an experienced practitioner in the Industrial/Organizational Psychology and Talent Management field. We leverage best practices in team building and employee engagement to ensure your staff has a fun and impactful experience. 
Skills Needed for Your Adventure

Communication
Each one of our activities, competitions, and puzzles requires employees to exhibit effective communication skills.

Interpersonal Skills
Strong interpersonal skills are necessary to ensure teams can successfully work together to score the most points and dig up a buried treasure chest. 

Leadership
Helping their crew navigate around the island while completing challenges will test the leadership skills of your staff.

Community
The opportunity to give back to the local St. Thomas community in a variety of meaningful ways leaves team members with a feeling of accomplishment. 

Critical Thinking
Each puzzle and clue challenges employees to think critically and creatively to achieve the highest score for that event. 

Time Management
During certain portions of the treasure hunt, the teams will have to delegate tasks and manage their time limits wisely as the sands of time wind down. 
What Can Our Team Expect?

Enjoy beautiful St. Pete Beach by hunting for buried treasure and solving brain-teasing clues with your team of colleagues.

Compete in team-based competitions and activities on land or sea which can include a community service event.

Leverage tools to solve the challenges faced to earn each piece of the treasure map to find the pirate's booty.

Experience a four to five–hour custom adventure designed to strengthen and develop several critical professional competencies. 

Show your team and swashbuckling spirit with our provided pirate swag and optional apparel items.
Designing a Corporate Hunt Is Easy
Fill out our form with the date your team is considering, a head count, and details about the event you are looking to host.
During a complementary consultation, review the fun activities and competitions to best determine the most ideal for your crew.
Select teams, captains, and a potential treasure for the winners.
Enjoy a memorable team event that will help build camaraderie and skills.
Ask about our remote team building activities!
Corporate Activities
Each activity is designed to develop and enhance several critical competencies. You will select a captain for each team, getting the opportunity to observe potential future managers in your company in action. Captains will need to make strategic decisions to lead the team to victory.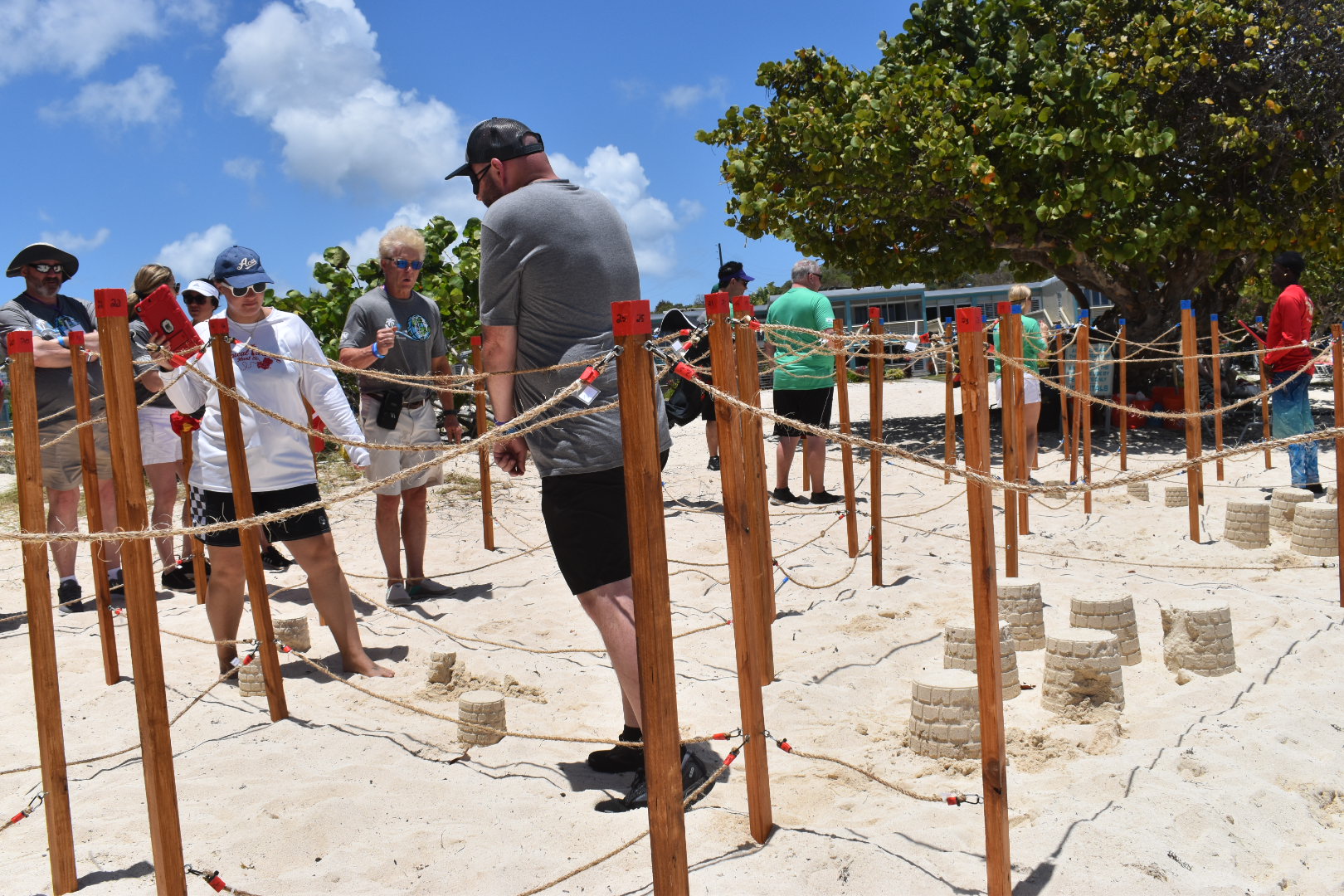 Blindfolded Maze
Test your team's communication, trust, and listening skills with the Blindfolded Maze! One team member at a time wears a blindfold and navigates the rope maze and its obstacles, including large sandcastles and dead ends, while their teammate directs them through. The team with the fastest time wins. This popular activity gets your group moving and allows your team to see each other in a different light while sharing lots of laughs.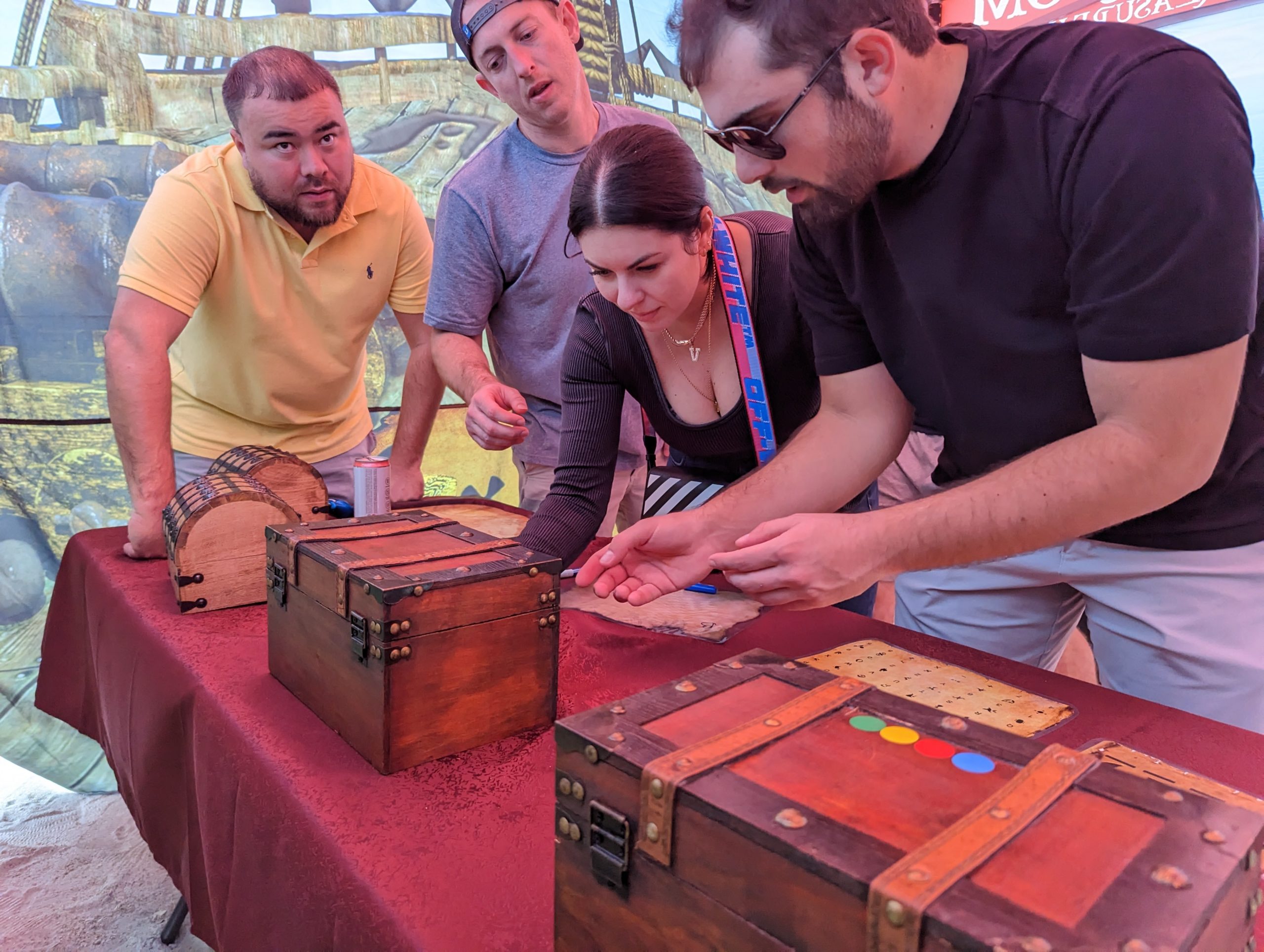 Mobile Escape Room
Solve the puzzles and unlock the seven boxes to break the curse before time runs out! Our Mobile Escape Room contains elements of a traditional escape room but can be set up wherever your event is held. Develop your team's time management, critical thinking, and the team leader's delegation skills.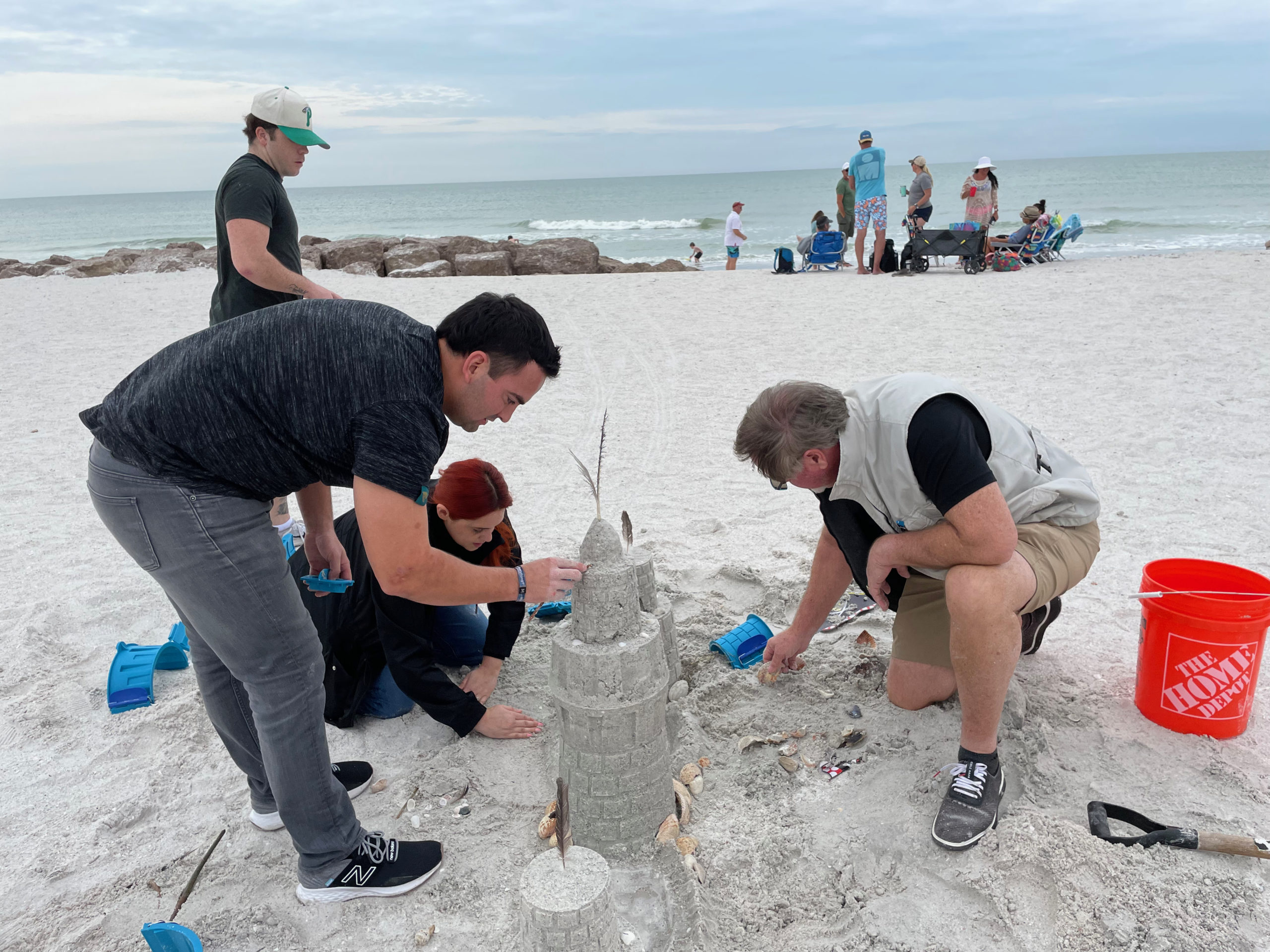 Create-A-Castle
What is more fun than building a sandcastle? Let your team's creativity soar as they practice collaboration and communication while getting down and dirty in the sand. Judging criteria include creativity, castle's durability, and teamwork during construction.
Tropical Treasure Hunt is a proud partner of Create-A-Castle, which has created a revolutionary way to create professional-looking sandcastles. The company was featured on the popular show Shark Tank! Your crew will learn how to use their patented sandcastle molds to create true works of art in a matter of minutes.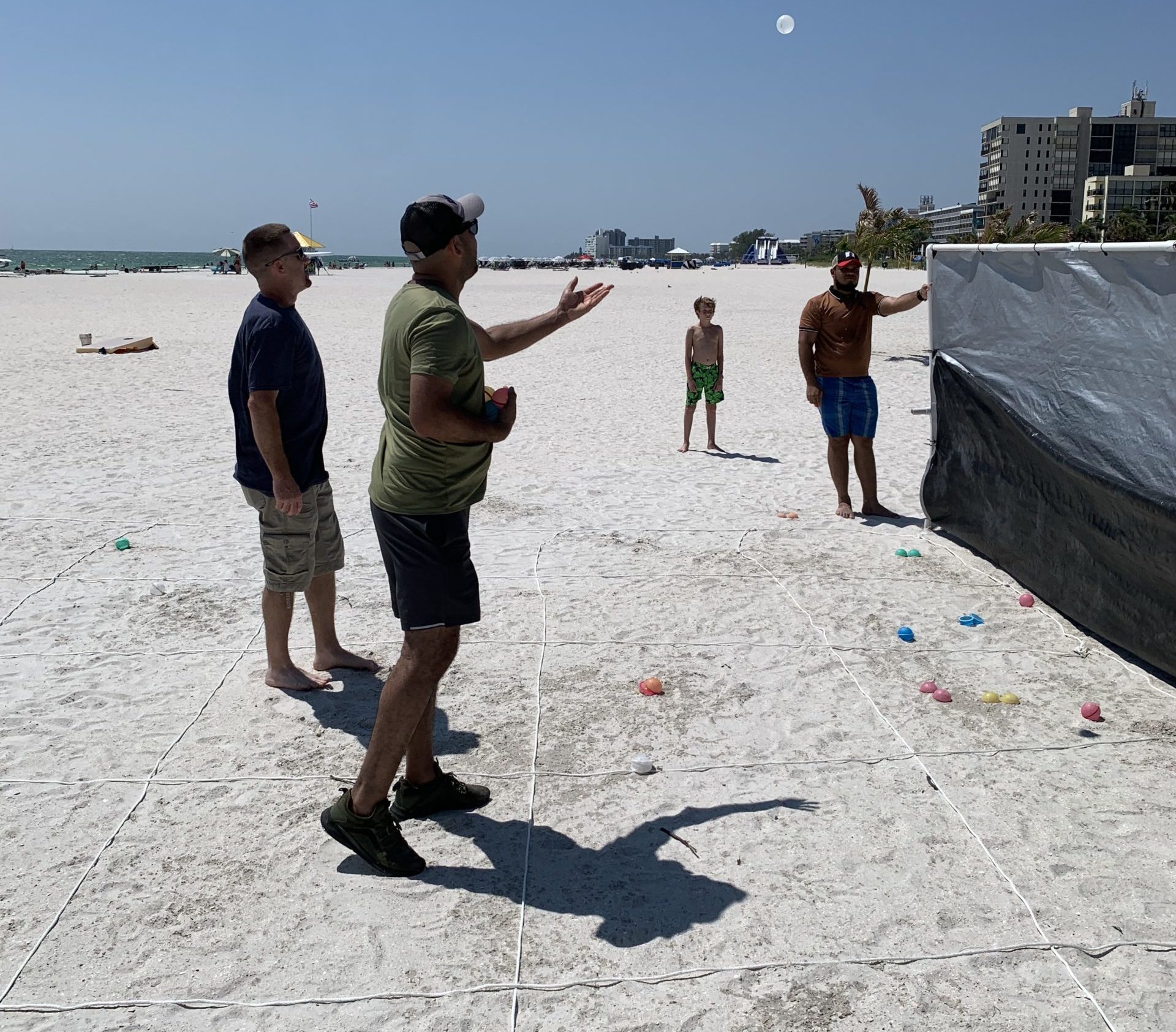 Human Battleship
Taking a familiar game and enhancing it is Tropical Treasure Hunt's middle name! Now you can enjoy this game of logic and strategizing as a team and while using your whole body to get into the action. Throw reusable water balloons on the other side of the game board to sink your opponent. The team to keep the most ships at the end wins.
Even Pirates Need High Morale
Only 15% of the world's workers are engaged and reaching their full potential at work.
Source: Gallup (2019)
Actively disengaged employees cost the U.S. an estimated $450 billion to $550 billion in lost productivity per year.
Source: Gallup (2013)
Companies with engaged employees outperform those that don't by up to 202%
Source: Recruit Loop (2017)
Only 15% of the world's workers are engaged and reaching their full potential at work.
Source: Gallup (2019)
Actively disengaged employees cost the U.S. an estimated $450 billion to $550 billion in lost productivity per year.
Source: Gallup (2013)
Companies with engaged employees outperform those that don't by up to 202%
Source: Recruit Loop (2017)
Why Invest In Our Team Building?
Increased employee engagement and collaboration
Increased personnel retainment
More efficient employee onboarding
Improved team performance and outcomes
Effective recruiting tool
Increased revenue and ROI
"…of all organization interventions, those that focus on team development had the largest effect on measures of financial performance."
Macy, B.A., & Izumi, H. (1993). Organizational change, design and work innovation: A meta-analysis of 131 North American field experiments, 1961-1991
"It turns out that happiness and learning are tied very closely together. Trying new things with your staff can generate good vibes among employees, which in turn benefits the business itself. Choosing something unique and slightly outside of people's comfort zones can encourage them to come together in new ways."
Brian Scudamore, Forbes Contributor and CEO of 1-800-GOT-JUNK?
"Organizations and teams with higher employee engagement and lower active disengagement perform at higher levels. For example, organizations that are the best in engaging their employees achieve earnings-per-share growth that is more than four times that of their competitors."
Gallup (2018)
"Team building is indeed highly effective for improving team member affective outcomes (i.e., engagement level, motivation, attitudes, etc.)."
Klein, C., DiazGranados, D., Salas, E., Le, H., Shawn Burke, C., Lyons, R., & Goodwin, G.H. (2009). Does Team Building Work? Small Group Research, 40(2), 181-222.
Alana
Marketing & PR Manager at FirstBank VI
"Great team building event for our employee summer event. Set on Magens Bay beach the teams went through adventures such as a maze, kick soccer and kayaking. While hesitant at first, it was great to see the enthusiasm build as the adventure progressed and watch the pure joy when a team won."
Tim
President of Theodore Tunick Insurance
"Theodore Tunick and Co did this for our annual day of fun. Many employees said it was our best one ever. Required thinking, leadership, and teamwork but at the same time was really fun. I got to visit several businesses and organizations which I was not familiar with as part of it."
Melanie
VP of Human Resources at ICMC
"I had the pleasure of working with Anthony and his team to plan a half-day team building experience with approximately 150 employees. The experience was well-planned, executed and very creative! It was a good balance of learning, team-building, and fun. I recommend it to all teams looking for a fun and creative way to build camaraderie."