Team Building
Treasure Hunts
Morale-Boosting Corporate Events
Empirical evidence from team building research proves that team building is not just a fun event, but a critical investment for the success of your business. Team building, and team development, can positively impact your company's bottom line and performance.
A Tropical Treasure Hunt gets employees out of their comfort zone and engaged with their coworkers in a meaningful way while having fun and exploring the beauty of St. Thomas. Teams will use critical, professional competencies, including communication and collaboration, to solve puzzles and compete for a chance to find buried treasure on one of the island's gorgeous beaches.
We specialize in immersive and memorable team building adventures by creating premier team bonding treasure hunts. Our founder is an experienced practitioner in the Industrial/Organizational Psychology and Talent Management field. We leverage best practices in team building and employee engagement to ensure your staff has a fun and impactful experience.
New in 2021:
Worried about Covid-19?
Ask us about our remote team building games!
Skills Needed for Your Adventure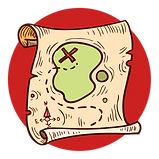 COMMUNICATION & COLLABORATION
Each one of our activities, competitions and puzzles requires employees to exhibit strong communication skills.
Strong interpersonal and collaboration skills are required to ensure teams can successfully work together to score the most points and secure the buried treasure.

LEADERSHIP &
COMMUNITY
Helping their crew navigate around the island while influencing members of their team to complete challenges will test the leadership skills of your staff.
The opportunity to give back to the local St. Thomas community leaves team members with a feeling of accomplishment.

CRITICAL THINKING &
TIME MANAGEMENT
Employees will be challenged to think critically and creatively to solve each puzzle and clue.
During certain portions of the treasure hunt, teams will have to manage their time wisely as the sands of time wind down.
WHAT CAN OUR TEAM EXPECT?

Explore the beautiful island of St. Thomas, USVI by hunting for buried treasure and solving brain-teasing clues with your team.

Experience a four to six-hour custom adventure to develop communication, leadership, interpersonal, time-management and critical thinking skills.

​Enjoy multiple attractions while learning about the history of piracy in the Virgin Islands and the Caribbean.

Compete in team-based competitions and activities on land or sea which can include a community service event.

Leverage tools to solve the challenges faced during the adventure in order to be the first to find the pirate's booty.

Show your team and swashbuckling spirit with our provided pirate swag and optional apparel items.
DESIGNING A CORPORATE HUNT IS EASY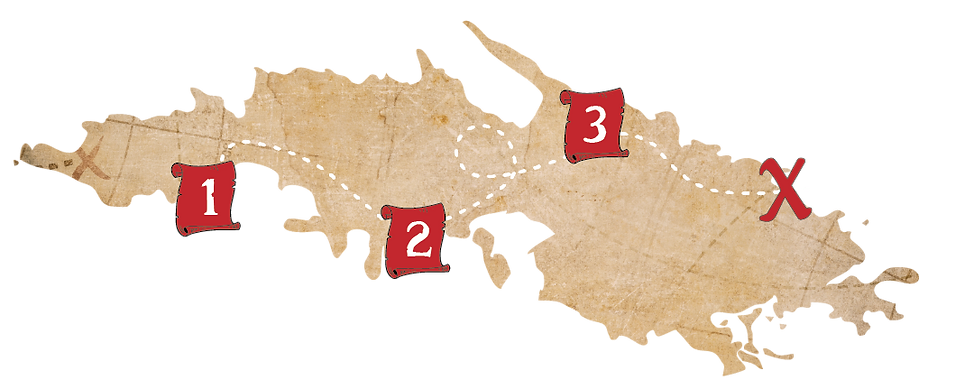 Fill out our form with information about your team's hunt, date and head count
Review activities and competitions to fit your crew during a consulting session with our team
Select teams, captains and a potential treasure for the winners
Enjoy a memorable team event that will help build camaraderie and skills
Even Pirates Need High Morale
Only 15% of the world's workers are engaged and reaching their full potential at work.
Actively disengaged employees cost the U.S. and estimated $450 billion to $550 billion in lost productivity per year.
Companies with engaged employees outperform those that don't by up to 202%.
Source: Recruit Loop (2017)
WHY INVEST IN TEAM BUILDING?
Increased Employee Engagement and Collaboration
Increased Personnel Retainment
More Efficient Employee Onboarding
Improved Team Performance and Outcomes
Effective Recruiting Tool
Increased Revenue and ROI
"…of all organizational interventions, those that focus on team development had the largest effect on measures of financial performance."*
"It turns out that happiness and learning are tied very closely together. Trying new things with your staff can generate good vibes among employees, which in turn benefits the business itself. Choosing something unique and slightly outside of people's comfort zones can encourage them to come together in new ways."
"Organizations and teams with higher employee engagement and lower active disengagement perform at higher levels. For example, organizations that are the best in engaging their employees achieve earnings-per-share growth that is more than four times that of their competitors."
"Team building is indeed highly effective for improving team member affective outcomes (i.e., engagement level, motivation, attitudes, etc..)."
Klein, C., DiazGranados, D., Salas, E., Le, H., Shawn Burke, C., Lyons, R., & Goodwin, G. F. (2009). Does Team Building Work? Small Group Research, 40(2), 181–222. 
Alana, Marketing & PR Manager at FirstBank VI
"Great team building event for our employee summer event. Set on Magens Bay beach the teams went through adventures such as a maze, kick soccer and kayaking. While hesitant at first, it was great to see the enthusiasm build as the adventure progressed and watch the pure joy when a team won."
Tim, President of Theodore Tunick Insurance
"Theodore Tunick and Co did this for our annual day of fun. Many employees said it was our best one ever. Required thinking, leadership and teamwork but at the same time was really fun. I got to visit several businesses and organizations which I was not familiar with as part of it."
Melanie, VP of Human Resources at ICMC
"I had the pleasure of working with Anthony and his team to plan a half-day team building experience with approximately 150 employees. The experience was well-planned, executed and very creative! It was a good balance of learning, team-building and fun. I recommend it to all teams looking for a fun and creative way to build camaraderie."
Companies We've Created Adventures for