Hunt Across The Land
Choose one of our immersive private piracy packages, our spy thriller adventure, or even create a completely customized hunt for you and your crew. All hunts include snacks, bottled water, and transportation to the locations featured in the adventure. We are proud to bring you the premier augmented reality experience in St. Petersburg!
Call 786-296-8800 to learn more.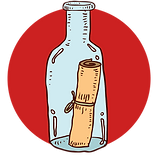 Operation Tropical Mindfall
Pirates just aren't your thing? Try our spy-themed adventure for adults and teens featuring GPS powered augmented reality! Become a secret agent with this high octane adventure combining innovative technology with our immersive treasure hunts. Collect pieces of a scientist's map in different areas of the island while solving riddles to save the world!
$109 per adult
$99 per agent under 18
Maximum duration: 4.0 hours
Private Experience with a minimum of 3

Golden Age of Piracy
Our original treasure hunt that put us on the map! Engage in the St. Petersburg's rich piracy history as you search for the elusive Jean Hamlin's treasure.
$99 per adult
$89 per child under 10
(Kids 3 years and younger are free)
Maximum duration: 3.0 hours
Private Experience