Maximize Your Tropical Getaway!
As long-time St. Thomas residents, we love to recommend places to eat, spots to see, and things to do during your visit in the US Virgin Islands! See below for some of our favorite attractions.
About the USVI
The US Virgin Islands is a US territory that does not require a passport for US residents. Our beautiful year-round temperatures do not change drastically. In our summer months, you can expect a consistent tropical temperature in the mid 80s, and in the winter it stays in the high 70s with a refreshing breeze.
Saint Thomas, or "The Rock," or "Rock City," is the most populated of the three US Virgin Islands, which includes Saint Thomas, Saint John, and Saint Croix. St. Thomas is the home of Charlotte Amalie, the capital of the US Virgin Islands. Most of our recommendations are on St. Thomas, since that is where we live and where our treasure hunt experience takes place. We also supply recommendations for a day trip to St. John. You won't be disappointed investing a full day or an evening on St. John, affectionately known as "Love City."
Fast Facts:
•We drive on the left side of the road
•Local etiquette is to greet people with "Good morning," "Good afternoon," or "Good night." (It feels a bit odd at first, but "Good night" is a greeting!)
•The Virgin Islands was named by Christopher Columbus in honor of Saint Ursula and the 11,000 virgins that followed her.
•5x NBA Champion Tim Duncan calls the USVI, specifically St. Croix, his home.

If you don't already have a rental vehicle, we recommend using Paradise Rentals. They will meet you at the airport with a quality rental and they are very professional and friendly.
Email: paradisercar@gmail.com
Phone: 340-643-2692
Website: www.pdiseinc.com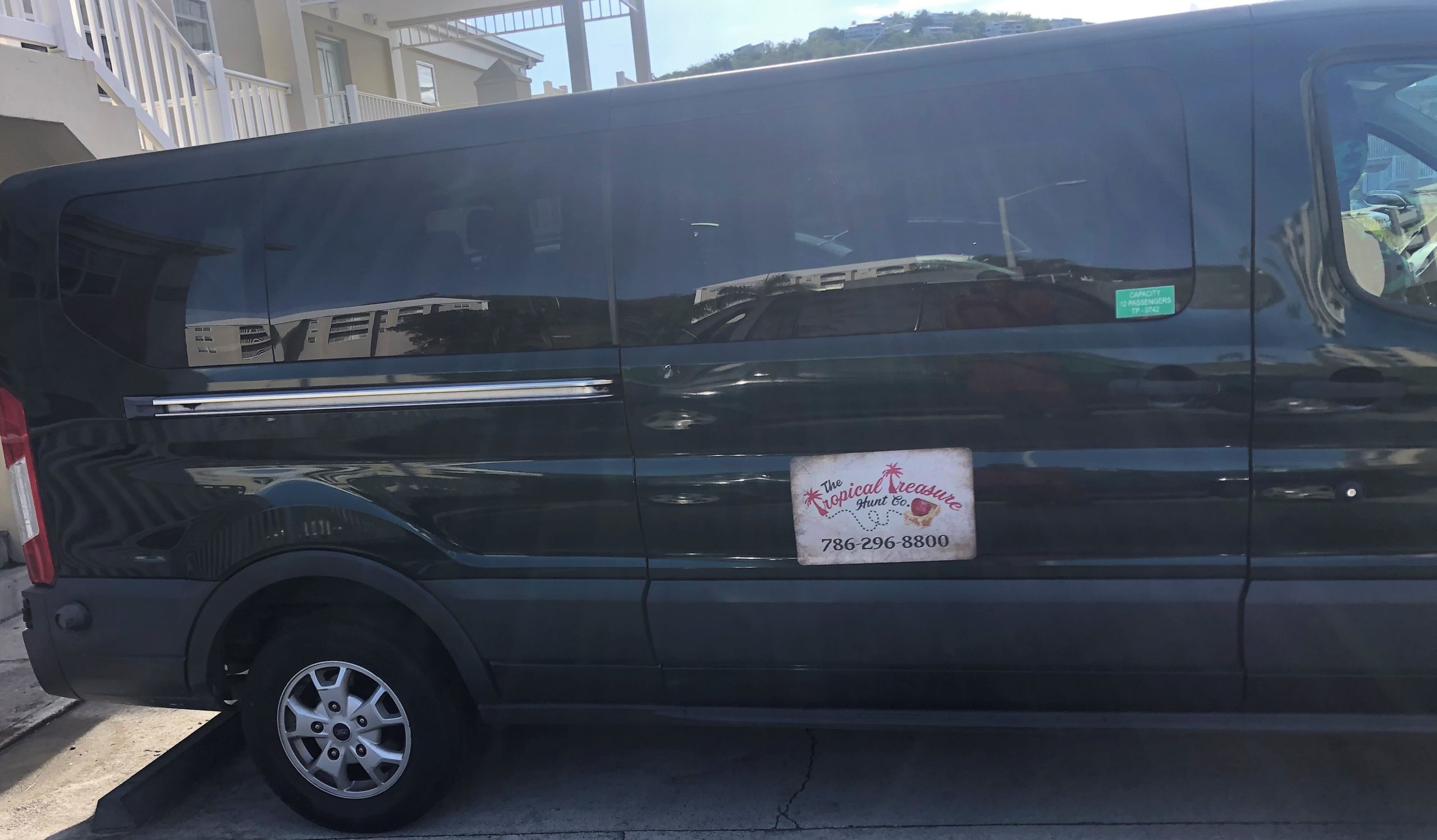 If you prefer a private and reliable taxi driver, please contact Peanut, our primary driver for our private Tropical Treasure Hunt packages.
He has an air-conditioned van that can hold eleven passengers comfortably. His cell is 340-643-5777 (tell him Tropical Treasure Hunt sent you).

Our favorite beach on St. Thomas, located on the east end of the island. It is not overwhelmingly big or too small. There is free parking and entry. The views of St. John and the British Virgin Islands from Sapphire are stunning. Their appropriately named Beach Bar has amazing food and quick service, including burgers, chicken sandwiches, and fish tacos. The Beach Buzz coffee shop has delicious breakfast sandwiches, coffee options, and Sapphire Beach apparel. The recently opened Paradise Pie has a fantastic selection of pizza. Their newest offering, Sea Salt, offers fine dining with an incredible view.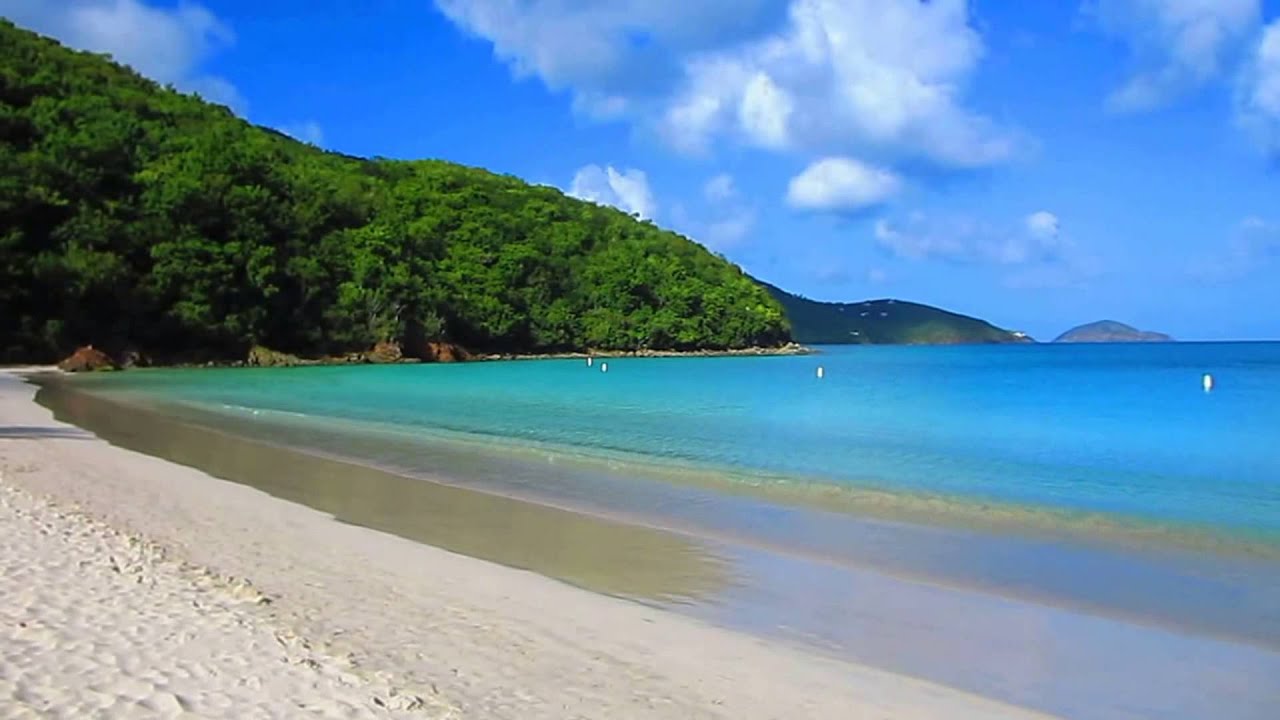 This is the most famous beach on St. Thomas, located on the north side of the island. Magens Bay features a well-protected white sand beach stretching for nearly three quarters of a mile. This is a popular tourist destination, and we recommend going to the far-left side of the beach where it is more secluded.
Magens Bay does require a small entry fee and includes amenities such as showers and changing rooms. There is also a restaurant, Magens Bay Concessions, that features excellent Bushwackers and pizza.
If you enjoy a challenging hike while being rewarded with an amazing view, Magen's Bay Trail is our favorite hiking trail on island.
When leaving Magen's Bay, if you want to indulge your sweet tooth try Udder Delights, "The home of the world famous liquor milkshakes." They have delicious traditional shakes and ice cream as well.
Located on the west side of the island next to the airport, Brewers Bay offers superb snorkeling and a relaxed atmosphere. There is a great opportunity to see turtles at this location, and a great view of the planes taking off and landing.
Located on the east end of the island close to the Ritz Carlton hotel. This is a smaller beach with calm waters. Enjoy a meal or a drink at the wonderful Sunset Grille located on the beach.
It is hard to count all of the amazing restaurants and bars on St. Thomas. These are some of our favorites that we think you will enjoy. Feel free to ask your guide for more recommendations.
*Warning: These reviews may leave those with empty stomachs extremely hungry!*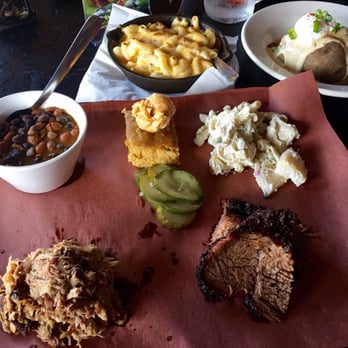 Are you a fan of smoked meats? Smoking Rooster is a can't miss. Along with a quality atmosphere and great food, it is a wonderful place to watch sports. Some weeknights they offer live music on their outdoor patio. Their mouth-watering mac and cheese is filled with your choice of smoked meat. Don't know what to choose? Try their meat sampler option, it is all fantastic.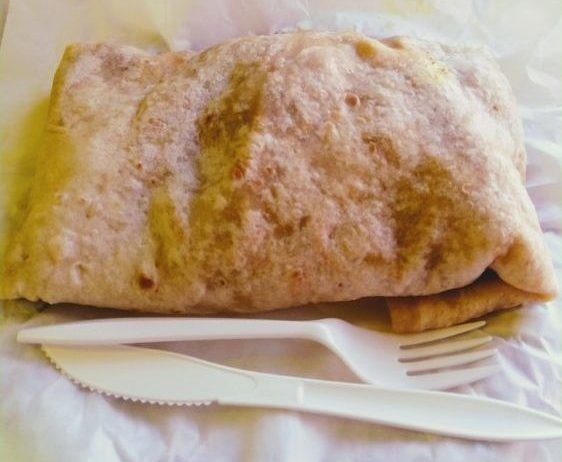 Do you enjoy trying local cuisine when you travel? Rotis are a Caribbean stape and an authentic Trinidadian dish. Roti can best be described as a "Caribbean burrito" filled with chick peas, potato, a protein, and plenty of spice. If you want to try an amazing roti, we can't recommend Ideal Restaurant enough. It is located in downtown Charlotte Amalie right of Main Street. You can have a roti with beef, chicken, goat, conch, shrimp, or veggies. Their spicy goat roti is our favorite! Ask for boneless if you don't want to deal with the bone.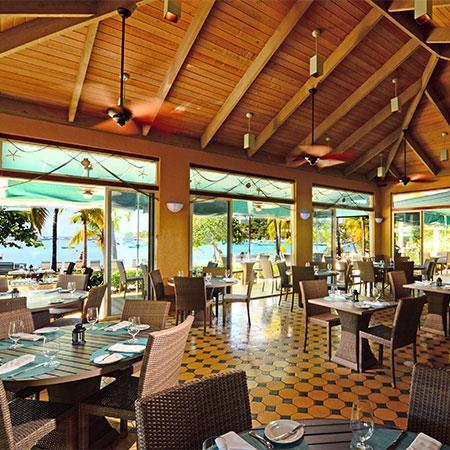 Located on the east end of the island right next to the Ritz Carlton, Caribbean Fish Market is your choice for fine dining in a relaxed atmosphere. Their seafood is always fresh from the local fisherman. They are known for much more than seafood though. You can enjoy a juicy steak or enjoy an impressive brunch. For brunch, if you crave outside the box Benedicts, try their Cubano or Philly Cheese Steak Benedict!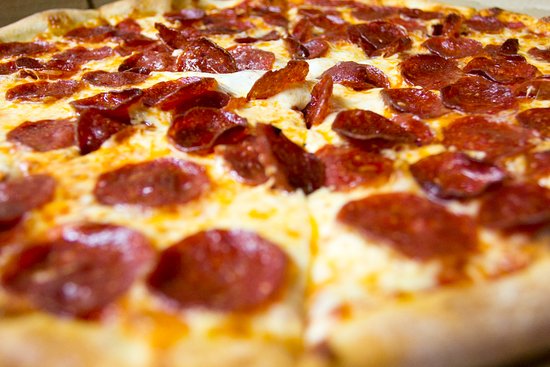 We know…why would we have pizza on a tropical getaway recommendation when you can get pizza anywhere? Well, you can't get Pizza Amore just anywhere! Outside of being in the state of New York, you will be hard pressed to find better pizza. They are located in Havensight and have operated on island since 1988. To be fully transparent, we have a Pizza Amore addiction! Go with a tried and true pepperoni pizza. Their huge slices never disappoint!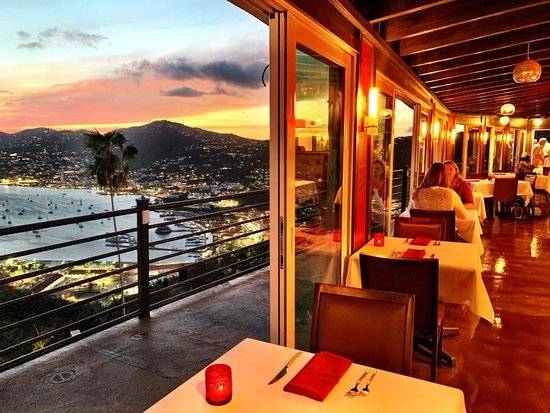 One of the best views you will ever find at a premier steak house. Panoramic vistas through the large glass windows provide a bird's-eye view of Charlotte Amalie port 700 feet below. This is arguably the best steak joint on the island and offers intimate ambiance with top notch service. The filet is incredible and they offer various toppings to enhance any of their wet- or dry-aged cuts of meat. Hardy family-style sides will satisfy any appetite.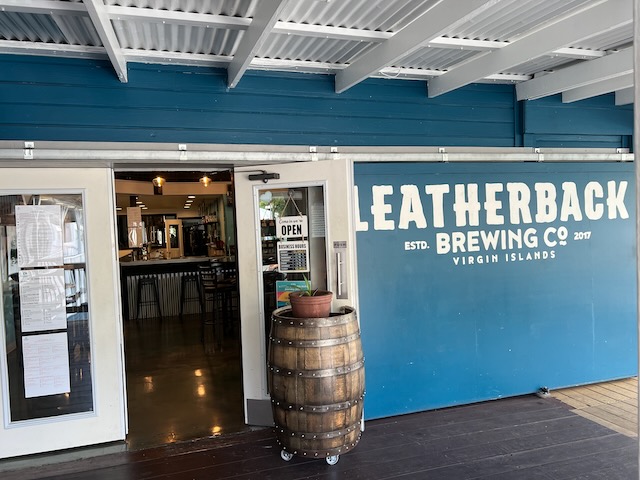 If you love delicious craft beers on tap, Leatherback is the place for you! Brewed in the Virgin Islands with locally inspired flavors and ingredients, Leatherback specializes in traditional beer styles with a distinctly Caribbean flair. Originating in St. Croix, Leatherback's St. Thomas tasting room location has 16 taps that feature the original flagship line, limited releases from St. Croix, and limited releases from local experimental brewer José Flores. Their food menu includes a variety of locally inspired small bites and snacks. They also brew a ginger-lime hard seltzer that beats any other seltzer around – and is available on tap!
Friendly staff and casual atmosphere make this a great dinner choice that won't break the bank. Great outdoor seating with a view! Our favorite appetizers are their Buffalo Cauliflower and the Goat Cheese Balls. They explode with flavor. Their Loaded Chicken Parm Panini will have your mouth watering. Any of their nightly pasta specials are also terrific choices.
This famous parking lot bar located in Red Hook has been in St. Thomas since 1995. Publications such as The Washington Post, New York Times, and Caribbean Travel & Life have all provided glowing reviews of this charming shack. Looking for a hardy app? Go with their juicy breaded buffalo wings or conch fritters.
Coffee & Quick Service Breakfast Options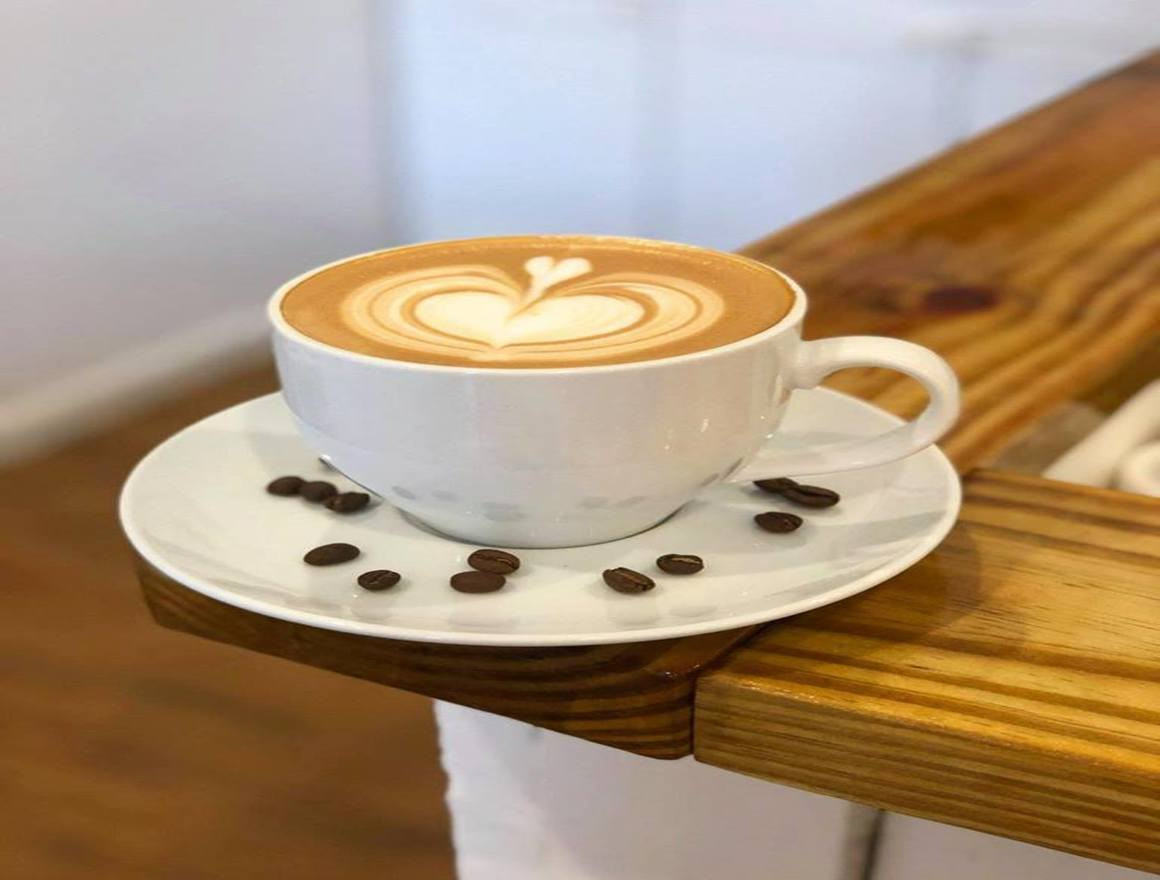 Located in Havensight, this coffee shop serves up a modern vibe along with powerful drip coffee, cold brew, and other options. As you wait in line you can't help but stare at all of their delicious bakery choices including scones, cinnamon rolls, doughnuts, and pastries. We love the croissant breakfast sandwich with fresh scrambled egg, bacon, salami, or turkey with your choice of cheese.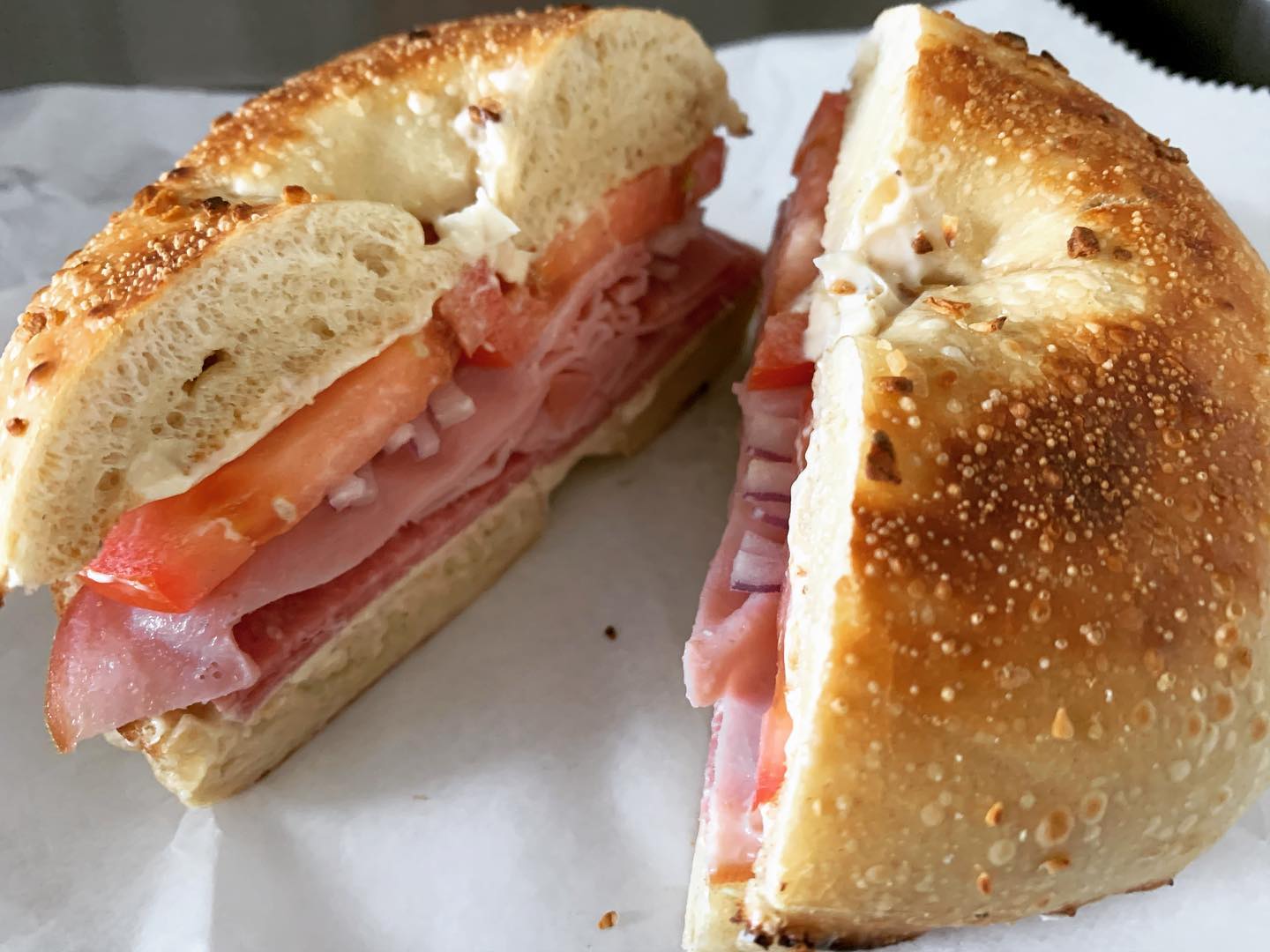 This is a brand new coffee shop open on the north side of the island near Magens Bay. It has great coffee and specialty breakfast sandwich options as well as deli sandwiches for lunch. If you like pork and garlic, you have to try the Stinky Pig bagel (pictured)! It's a toasted onion bagel, Black Forest ham, Genoa salami, tomato, onion, and house-made roasted garlic cream cheese (forgive your partner in advance for the potent smell).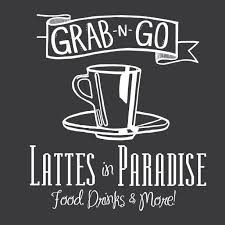 Located in American Yacht Harbor in Red Hook, this little grab and go counter is big on taste and selection! Breakfast burritos are a top choice and their gluten-free quiche is one of our favorites for breakfast.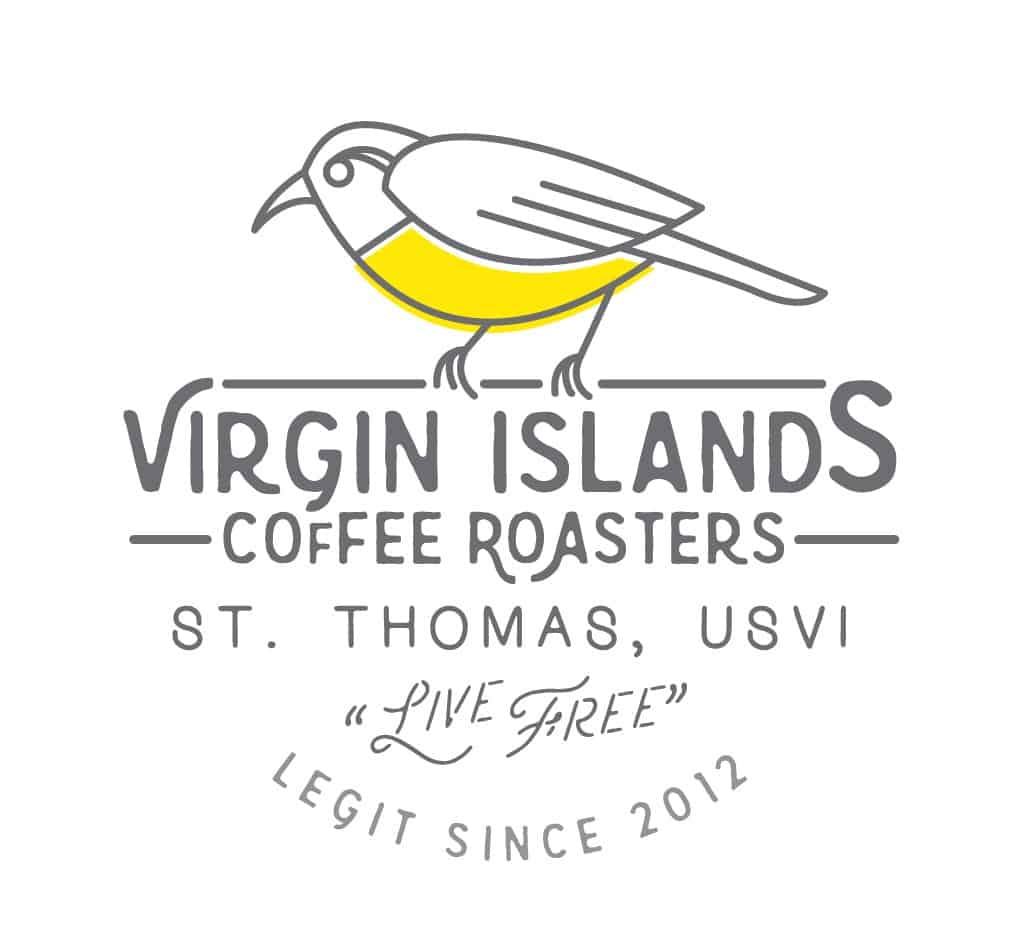 If you're looking for a super quick coffee option, this self-serve coffee bar located in Havensight Plaza is the place for you! Grab your own coffee, either hot or cold brew, with a few flavored syrup options. Their delicious coffee is roasted in house and their beans and merchandise are available for purchase. You can also find their coffee in bulk at various grocery stores across the island.
Attractions and Activities on Land and Sea
St. Thomas offers more than breathtaking beaches and memorable dining experiences: there is also plenty of adventure for all ages! Whether your party is stoked for an experience on the water, or is looking to have fun only on dry land, these unique activities will add more more memories to your tropical getaway. We have personally tried these experiences and have been so impressed that we included some in our treasure hunt adventures!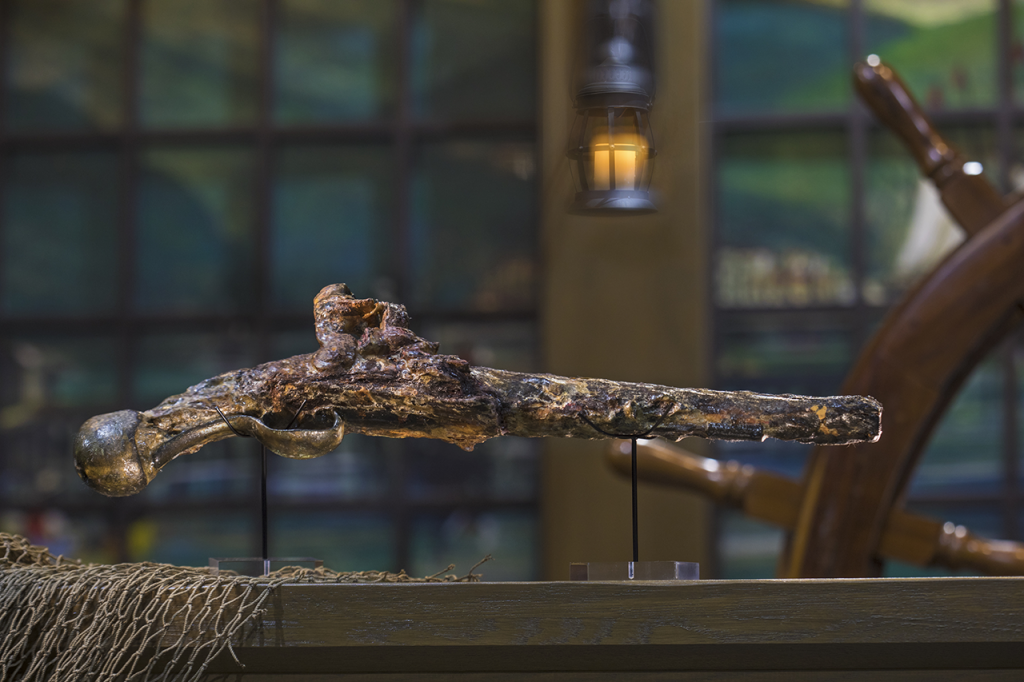 This stellar two-story museum helps bring Caribbean pirate history to life in a way that no other museum can. Immerse yourself in interactive exhibits including a hurricane simulator and a knot-tying attraction. Informative displays as well as impressive collections of artifacts from bottles and other containers, coins, weapons, and more round out the experience to bring piracy alive. There is also a fantastic gift shop where you can find books on piracy, authentic shipwreck coins, apparel, and much more.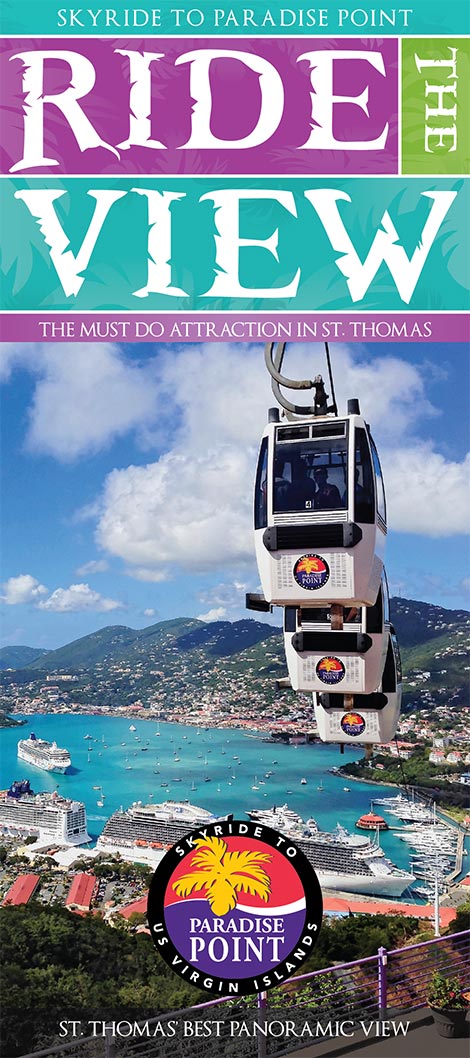 This is one of the most iconinc attractions in the US Virgin Islands. Ride the View: Hop into a window-encased gondola to travle 700 feet up, enjoying stunning panoramic views of Charlotte Amalie Harbor the whole way up. At the top, you will be rewarded with one of the best views in the Caribbean. The bar's frozen drinks are delicious, and there are multiple souvenir shopping options. You will also find two dining options, Taste and Prime Steakhouse. Taste offeres Caribbean-style cuisine and a casual atmosphere. Prime is a premier St. Thomas steakhouse in an intimate setting.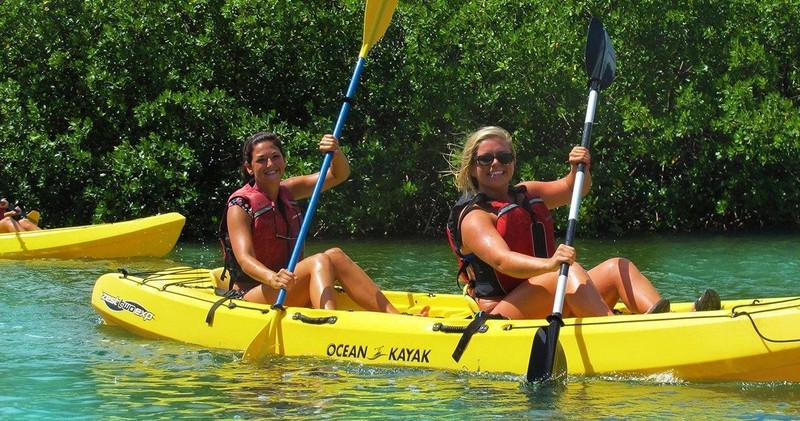 Virgin Islands EcoTours has been voted the best Eco-Tourism and Kayak Tours Adventure Company on St. Thomas & St. John. You can be assured that their guides will be friendly and knowledgeable of the local ecosystem. They offer guided tours or rental equipment including kayaks, snorkels, and stand-up paddle boards. A guided tour of the St. Thomas mangroves is a sought after experience if you enjoy nature.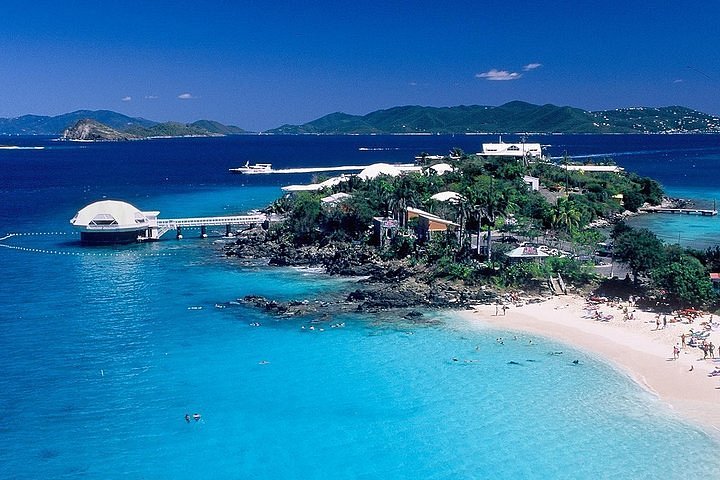 If you enjoy learning about the ocean and its creatures, Coral World Ocean Park is the place for you! Enjoy 5 acres of aquariums, outdoor exhibits, a touch pool, an aviary, and so much more! General admission includes a self-guided tour of this amazing aquarium, and other interactive exhibits such as the Sea Lion Encounter, the Dolphin Splash & Swim, and more are available. Meet the rare South American Sea Lion and some local Green Sea Turtles as well as many other amazing animals.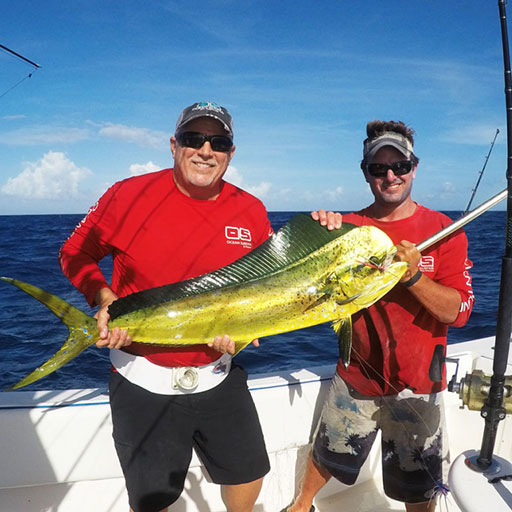 Caribbean deep sea fishing and shore fishing at its best! We love going out with them because they do not have a limit on how much eligible fish you can take home. Their full-day private charters include fuel and the captain's fee. We have caught plenty of yellow-fin tuna and wahoo on one of their 37 ft. Calypso boats.
St. John, another of the US Virgin Islands, is visible from most of the east end of the island. It is a quick ferry ride away and has many gorgeous beaches, delicious restaurants, unique hiking trails, and rich history to explore. Two thirds of the island is national park, which makes for lots of natural beauty. 
There are two ferry options to get to St. John: the "people ferry" and the "car barge." All ferries leave from Red Hook, on the east end of St. Thomas, and arrive in Cruz Bay, on the west end of St. John.
The people ferry runs from 6:30 AM to 11 PM, leaving every hour. Tickets can be purchased at the counter in the ferry dockin Red Hook. Once you reach St. John, you will disembark in the heart of Cruz Bay, an area with many shops and restaurants within walking distance. It is very easy to catch a taxi in Cruz Bay to get to the beaches and hiking trails further away on the island. The St. John Visitor Center is also close by.
There are two different car barges, Love City Car Ferries, Inc. and Big Red Barge Co. The car ferries only run until 6:30, so if you want to enjoy a later dinner on St. John, the people ferry is the way to go. If you do take your car to St. John, take the North Shore Road out of Cruz Bay to find all the best beaches on St. John as well as several breathtaking overlooks where you can pull over for a picture.
The North Shore Road will take you to most of the amazing beaches on St. John. All offer incredible views of St. Thomas and the British Virgin Islands and excellent snorkeling. Maho Bay Beach is a sure thing for sea turtles, and Maho Crossroads is a recently-opened, self-powered pop-up village that offers a food truck, a bar, and shopping.
Cinnamon Bay Beach also offers amazing snorkeling and also hosts a campground. Choose between tent camping or "glamping" in an eco-cabin.
St. John has many delightful dining options. Highlights include Extra Virgin, an with an elegant tasting menu and locally sourced ingredients; the locally owned Lime Inn that also offers a tasting menu and delicious cocktails; Morgan's Mango that features a variety of Caribbean cuisine; and the casual Beach Bar that is right on Cruz Bay Beach near the ferry dock.
Hiking Trails and History
St. John is rich in history, from the indigenous groups such as the Caribe and the Taino to Danish colonization. The Annaberg Sugar Plantation offers a look into life on a sugar plantation during the time of slavery in the USVI. The Reef Bay Trail is a semi-strenuous 2.5 mile hike that features a detour where you can view petroglyphs, carved into the rock by pre-Colombian Taino.
Located in Charlotte Amalie harbor, Water Island offers an historical water tank to explore, and golf carts for rent to take you to the beautifully secluded Honeymoon Beach. Take the ferry from Tickles Dockside Pub located in Crown Bay Marina and enjoy a beautiful day. The fish tacos at Dinghy's Beach Bar & Grill are not to be missed!
The British Virgin Islands are very close by, visible from the east end of St. Thomas. Many charter companies offer day trips to the BVI, and you can enjoy a day of snorkeling, delicious restaurants and bars, and amazing views. Bear in mind that a trip to the BVI does require a passport and a customs fee.