We love our team, and we know you will too! This quarter, we shine a spotlight on the wonderful Richi Livacz.
What is your role at Tropical Treasure Hunt?
Right now, I'm a tour guide, tour guide and sales team (Note from Anthony: All Tropical Treasure Hunt are part of the Sales Team and take pride in helping families find the perfect adventure for their group).
How long have you been with the company?
About five months or six months.
What is your favorite thing about working with Tropical Treasure Hunt?
My favorite thing is not being micromanaged all the time. I like the fact that when I go on tour, it's my show. It's Anthony's company but he trusts me to do a good job and he doesn't try to micromanage me or anything like that. He trusts me and he gives me a lot of responsibility which I appreciate. It feels good to feel like you're in charge or it's your decision.
Also, I really enjoy providing a more personalized experience for guests. I have worked in tourism before, but I've never had this kind of connection with my guests. It's always just been more of a routine or a recording, I feel like, of myself. I feel like this is more like it's actually me giving people a tour as a person rather than just a tour guide.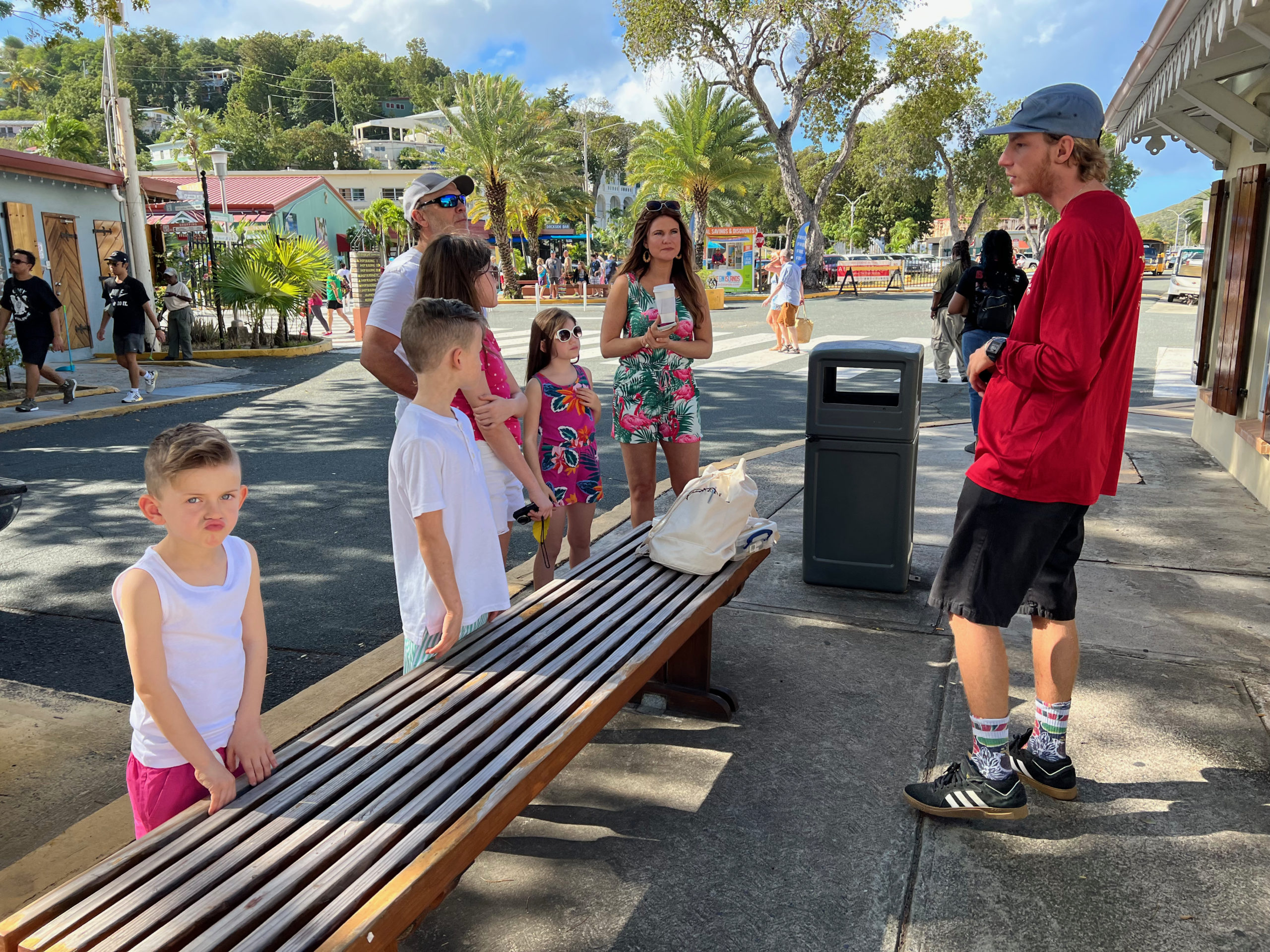 Who is your favorite pirate?
Anne Bonny. I really love Anne Bonny's character. I think it's super epic how she was a very young woman, just a total badass, kicking butt and taking names, I think that was super cool. She's just such a fierce pirate, I think she stands for what it means to be a pirate better than anyone. I really like the whole masculine disguise that she always wore that her father made her wear to provide her with opportunities that only men could have at the time. I think that part is super cool.
Do you have any pets?
Yeah, I have a couple cats. I have Gypsy, Simba, and Chloe.
What talents or interests do you have outside of work?
Skateboarding. I've been skateboarding for almost 12 years now. It's been one of the biggest parts of my life outside of my current relationship. Other than that, art and music.
If you could have dinner with three people, alive or dead, who would they be and what would you eat?
Definitely Bob Marley, hands down that's the first one. I don't know what I would eat though…whatever's cooking. Yeah Bob Marley, Mark Gonzalez, he's a famous skateboarder/artist, definitely him. For the third one I think Snoop Dogg.
Tell us a joke.
Do you know how much a pirate pays to get his ears pierced?
That would be a buccaneer.
Do you know why you'll never see a pirate cry?
Whenever they do it's a privateer.