It finally happened. The Easterly opened near the ferry dock in Red Hook in the old Señor Frog's location. And. We. Could. Not. Be. Happier. More than two years in the making, The Easterly was well worth the wait. And if you're familiar with its sister restaurant on St. John, The Longboard, you know the new kid on The Rock will not disappoint.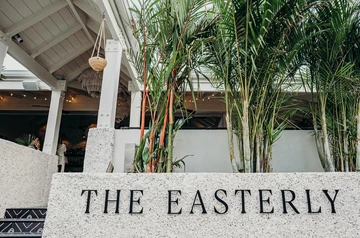 To quote the website, The Easterly is a shoreline culinary oasis offering innovative craft cocktails and wood-fired cuisine of the rustic Caribbean. Yep; couldn't have said it better ourselves. The moment you step inside, you're transported to another place. If Dorothy from the Wizard of Oz came to visit, well, we're pretty sure she'd say "We're not in Red Hook Anymore."
Let's start with the ambiance. You can tell a lot of thought, planning and care went into the design of the place — the perfect combination of an inviting, upscale, yet comfortably casual, warm, tropical beach vibe.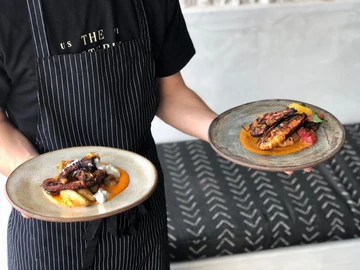 Now, on to the menu. Separated by an assortment of hot and cold shareable plates, including locally grown produce, ceviche, mussels, octopus and prawns, several main entrées, a fun mix of raw and grilled oysters, plus lobster and whole fish – if you love seafood, you'll love The Easterly. But, chicken, lamb shank and ribeye are also offered for you landlubbers.
Let's see, what am I missing? Oh, right. We saved the best for last. The craft cocktails! You really can't go wrong here, but I oped for the Ahoy Mi Boy, a delightful blend of tequila, watermelon, passion fruit, lime, and a black lava sea salt. Yes, please. May I have another? My partner enjoyed the Barb Gnarly, with fin, escubac liquer, lemon, serrano-basil orange syrup, and rhubarb bitters. The Easterly also offers local brews and a decent wine selection. Cheers!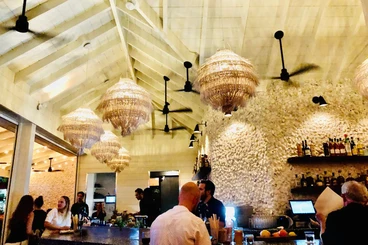 Unfortunately, we were too full for dessert, however, we can't wait to go back and try the Dark and Stormy Tart, with ginger mousse, Goslings caramel, and candied lime. What? Well, we weren't too full for espresso martinis, which we highly recommend, especially because they were garnished with the best coconut biscotti I've ever tasted laying gently across the top of the glass.
So, to sum up…for the locals, get there as soon as you can to experience this beautiful new gem of a spot. For the visitors, be sure to add The Easterly to your "must go" list next time you're here.
The Easterly is open for dinner seven days a week, with the kitchen open from 4 to 10 p.n. and Happy Hour from 4 to 6 p.m. Reservations are accepted, though walk-ins are welcome. Call 340-714-1000 or visit www.theeasterlystthomas.com or visit them on Facebook or Instagram.
Tell them The Tropical Treasure Hunt Company sent you!