Why Does Team Building Matter?
Successful businesses know that investing in their employees is one of the most important investments they can make. A recent Gallup survey showed that business units with engaged employees had 20% higher sales and 21% higher profitability. These are just two of many critical metrics proving that engaged employees are productive employees. Most employers would think that their employees are productive and engaged, but the study also showed that 85% of employees are either not engaged or actively disengaged at work – that's 1 in 10! 
So. How can companies make sure their employees are engaged and working collaboratively? What should businesses do to onboard new employees efficiently and retain personnel? How can managers improve team performance and outcome?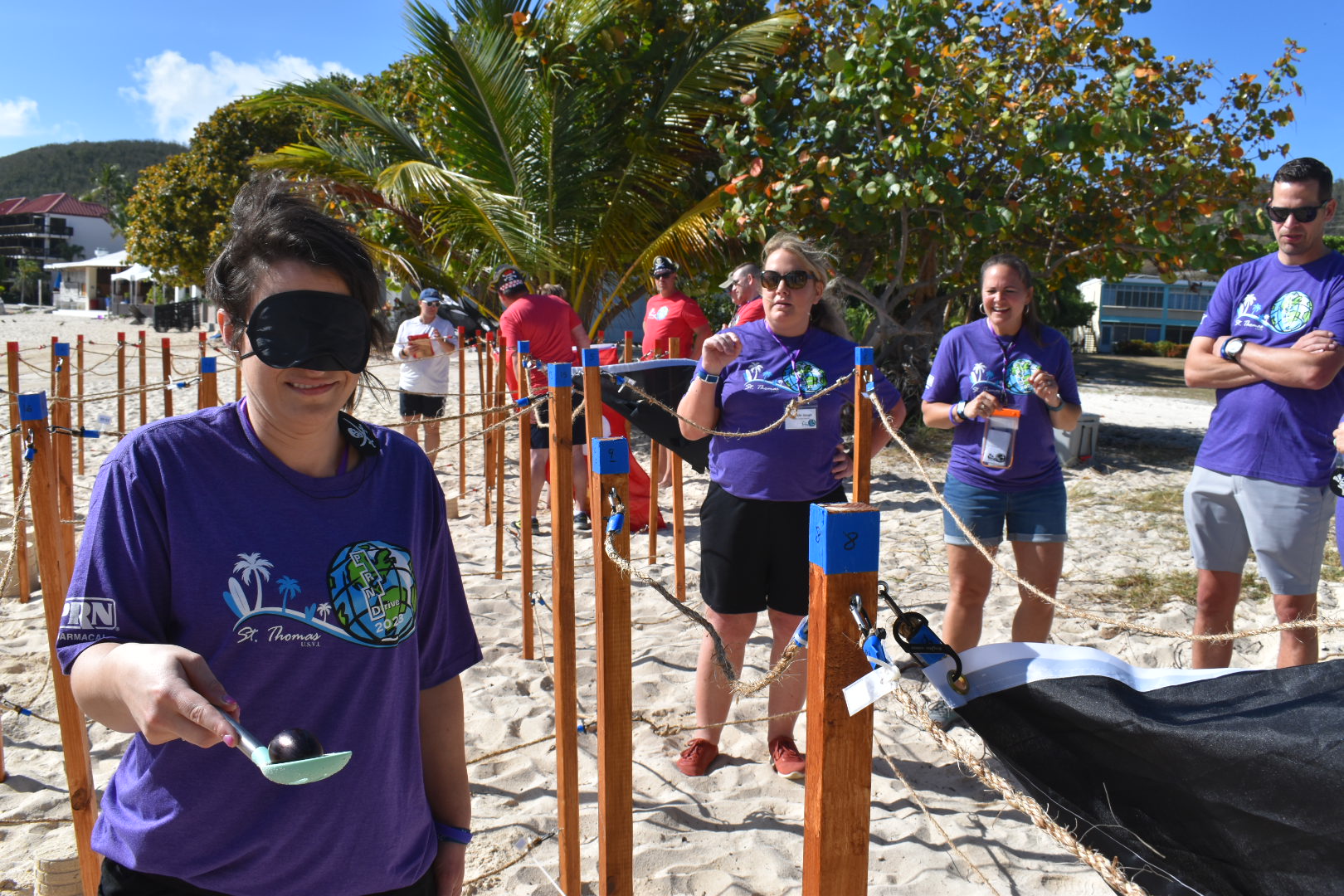 Tropical Treasure Hunt: Leading Team Building Service
Tropical Treasure Hunt has been the premier team building service in St. Thomas since 2018, serving companies based both in St. Thomas and on the mainland. Previous clients include First Bank, WTJX, Virgin Islands Montessori School & International Academy, Marriott Vacation Club, VIHFA, Tunick Insurance, and CURA Freight. Surveys before and after Tropical Treasure Hunt programs show employees feeling more engagement in their company, increased trust and positive feelings towards their coworkers, and a heightened belief that their employer is invested in them.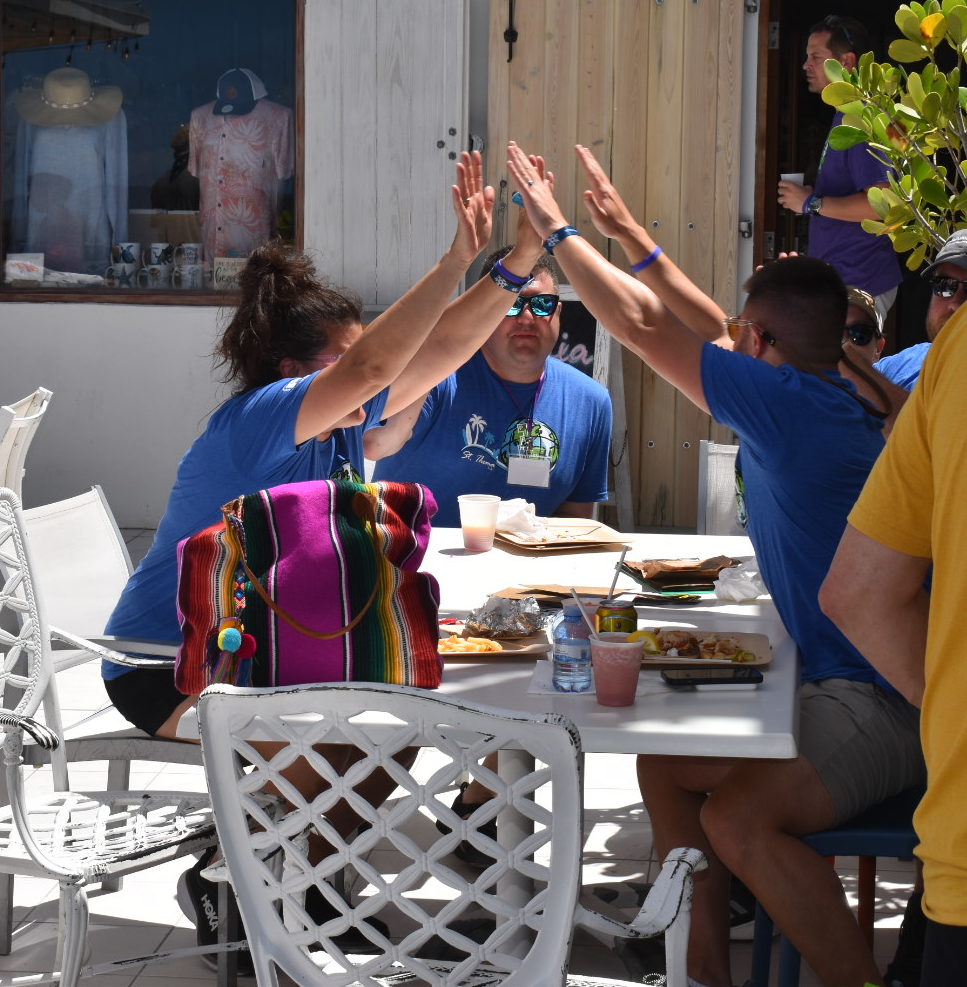 Tropical Treasure Hunt's "secret sauce" in producing these world-class quality events is its talented crew and researched-based best practices. The staff comprises of contract workers and employees. These team members include experienced actors, part-time engineers creating innovative props and activities, and client-oriented guides. All team members are trained and invested in Tropical Treasure Hunt's mission of creating "memorable adventures that bring people together." Founder and managing member Anthony Schultz is an experienced industrial and organizational psychology professional. He has ensured from day one that best practices in employee engagement and team building would be the foundation of every event.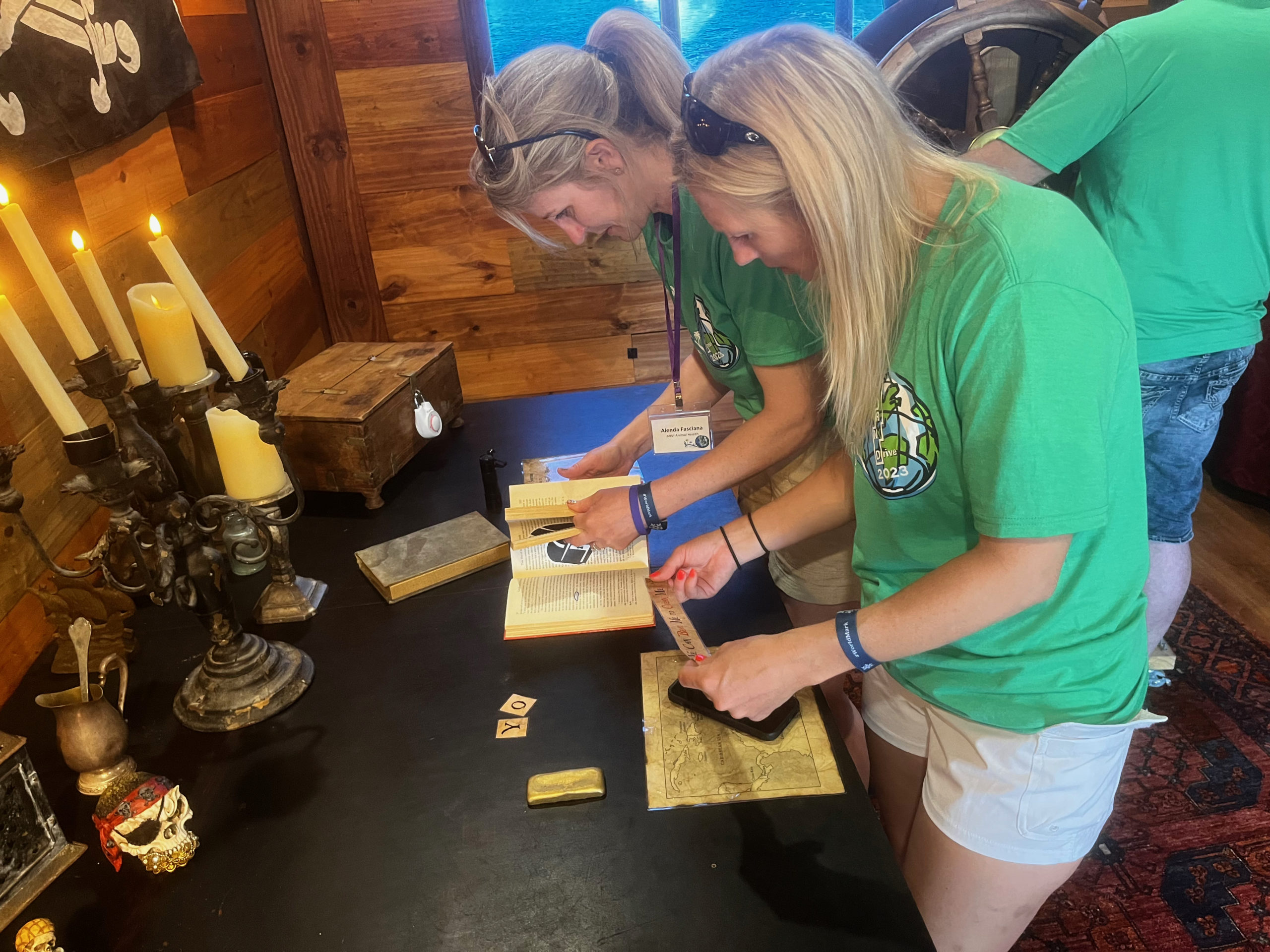 PRN Pharmacal
Recently, Tropical Treasure Hunt hosted PRN Pharmacal, a Pensacola-based veterinary pharmaceutical company, for a successful employee appreciation program. The customized program included events such as the Blindfold Maze, St. Thomas and PRN Product Trivia, a visit to the Pirate Museum, the Captain's Quarters Escape Room in the Tropical Treasure Hunt storefront, and even a community service event in which team members walked dogs at the Humane Society.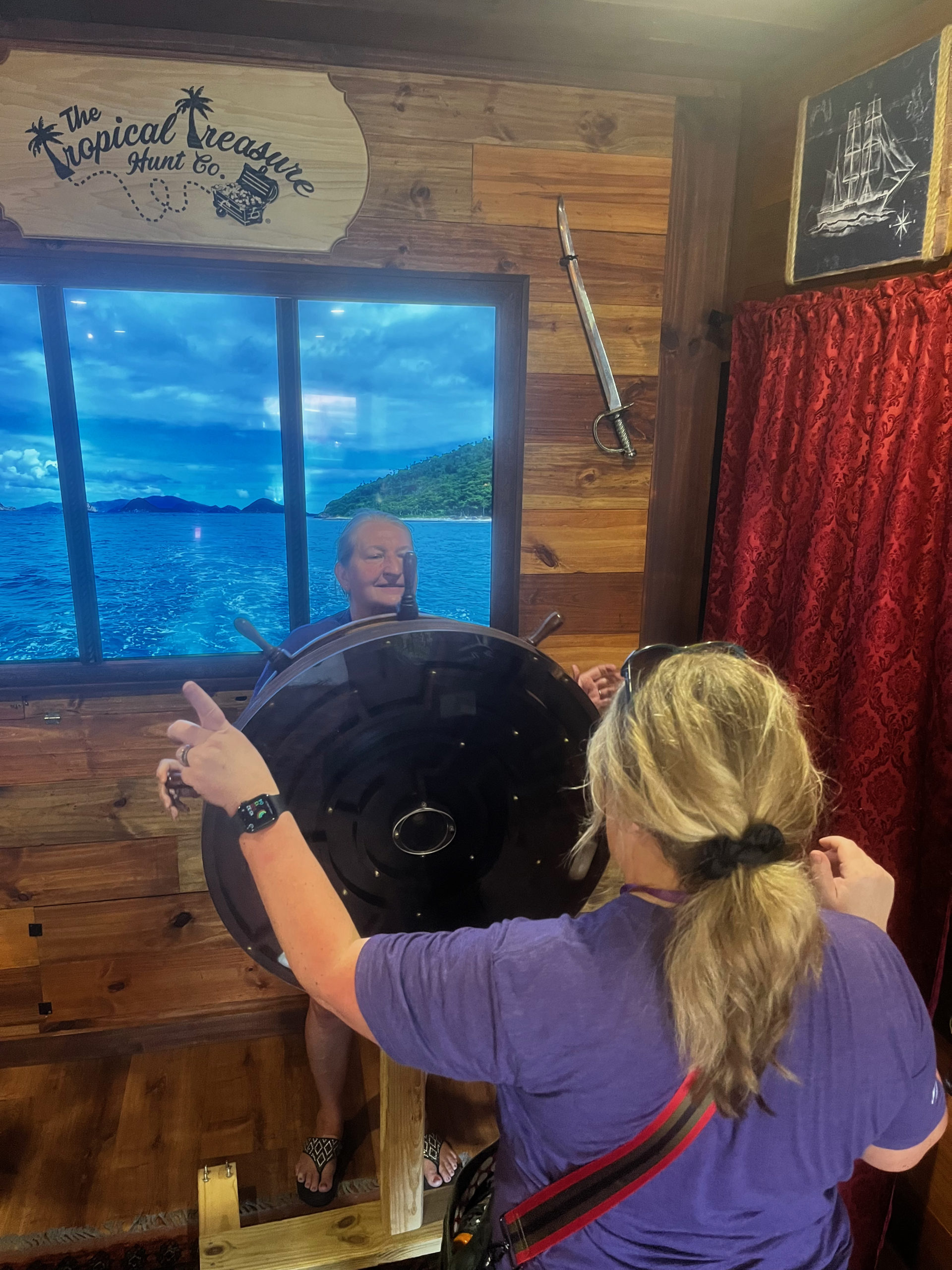 Team member Sherri writes, "The overwhelming response to the Tropical Treasure Hunts event was a 10/10! Everyone loved the program, they loved the ability to see the beautiful island, learn some history, learn some product knowledge, create new friendships through the team building, learn communication skills, volunteer at the local shelter and so much more!" PRN hosts this employee incentive trip every year, and Sherri states that "the response from our attendees is that this was the best meeting and trip that they have been on." 
Not only did Tropical Treasure Hunt organize the team building event, but they also worked closely with PRN to ensure they were able to take their trip to St. Thomas after their original accommodations fell through. Says Sherri, "Had it not been for the partnership that we forged with you from our original site visit we would have considered moving the program off island and even to another country. We are so excited that we made the decision to stay on St. Thomas as your program was very impactful.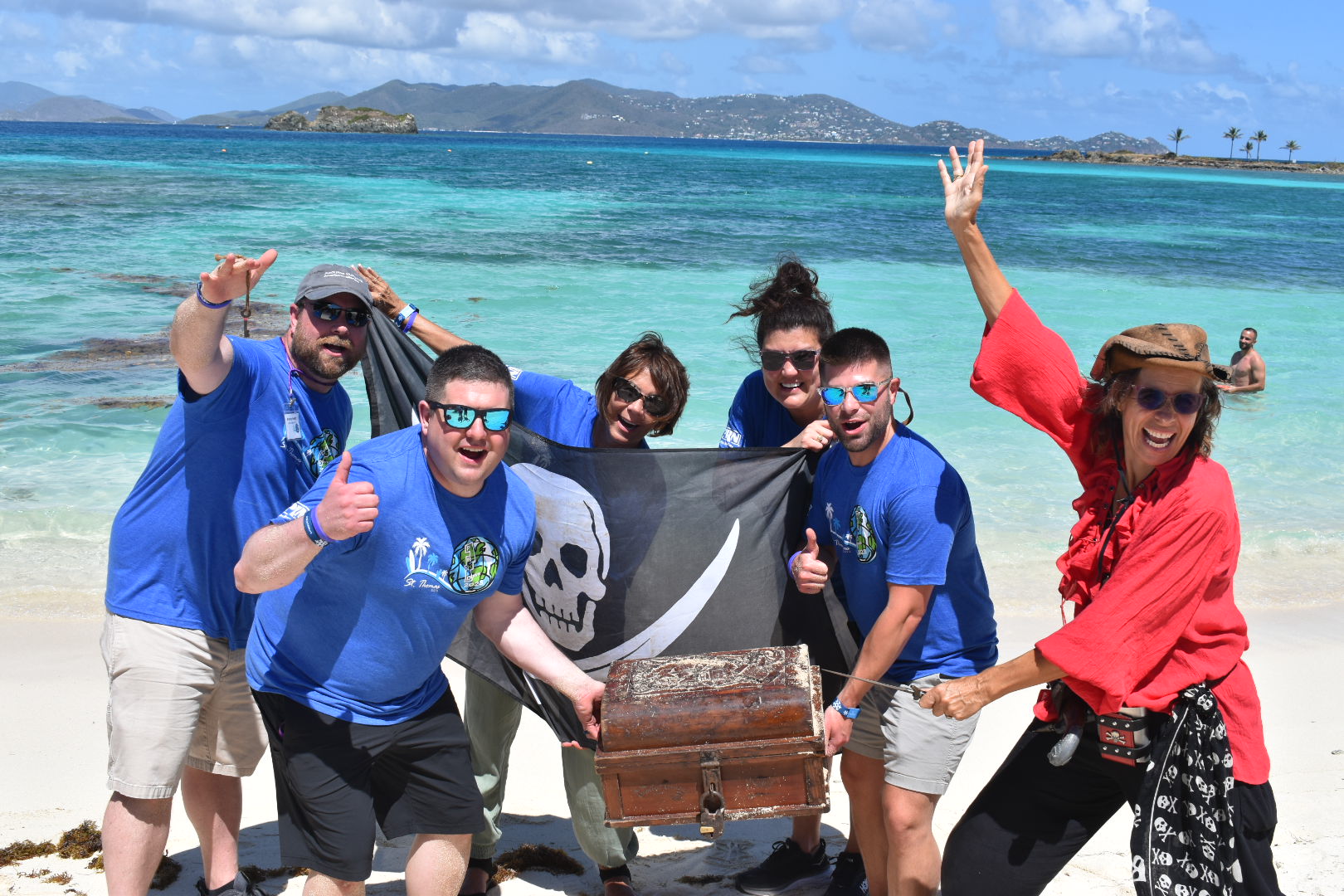 "All in all we brought 68 people to the island, we visited several of your beaches, spent some time at Coral World, kayaking and playing at Magens Bay. We had people who stayed for Carnival and we took the group over to ZoZo's for our Farewell dinner. We spent around $200,000 between the three companies. Tropical Treasure Hunts, Grant and Valerie with VIP Destination Solutions, and the Margaritaville resort were all so amazing to help us make our program a success." Tropical Treasure Hunt values its strong partnerships with local businesses and believes that we can all be more successful through teamwork and collaboration, amongst employees and between companies. 
What's Next for Tropical Treasure Hunt?
Tropical Treasure Hunt continues to serve the community with team building programs, most recently working with Tunick for a second time and the Boys and Girls Club of St. Thomas and St. John. The company even has plans to travel to Pensacola, FL, in November for a second PRN team building event. These companies recognize the importance of continuously investing in their employees and realize that Tropical Treasure Hunt can help. 
To find out more about how Tropical Treasure Hunt's team building services can meet your needs, contact Anthony.